The time on this brief three months in Ontario has flown by, but been very pleasurable and gratifying. 
 After seeing over 100 "units" of you (singles, couples, families, groups) on my support team (sorry I didn't take more photos of us) and putting 7,000 km on the car doing it, I just returned the car.  I am so grateful to the supporter who provided for my transportation and don't know how the Lord provided a brand-new car for me to use since there is such a shortage.  The agent commented several times today that they were desperate to get the car back so they could sell it because they have no cars.  God is good all the time!
I am grateful for your prayers for my safety and for my health.  Several times I was with people who shortly thereafter found out that they had COVID.  It happened each time before I was to leave on a trip and even during a trip or when I had a group of visits arranged, so I had to test several times but always felt good and got a negative result on the test (which is positive!).  A couple of times I had to do a self-quarantine because I didn't want to risk spreading the virus, a few times we met outside with distance, a couple people didn't want to expand their bubble, but I was able to speak at 
all my supporting churches and to enjoy visits with the vast majority of you in Ontario.  Thanks to each of you who hosted me or shared a meal with me or took me on an adventure.  I love and appreciate each one of you!
I mentioned in my last letter that many had shared about difficult circumstances in their lives.  That theme continued through the rest of the visits whether it be their own health or the health of a loved one, a relationship issue, or the death of someone close.  How good it is that we can trust in a good and loving God, even when we don't understand the why!
I loved the times I could be out with you enjoying nature around the province and also right here.  Thanks to my brother and his wife for hosting me in such a beautiful spot.  It was refreshing and relaxing just to look out the window!  It's too bad I didn't have a camera on me the first time I encounter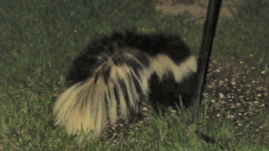 ed the skunk.  That would have made a great photo, but I was glad to get this night shot a couple days later.  Fortunately, the tail stayed down!
On a couple of visits, I was asked where home is for me.  I answered that it is both here and there, depending on where I am.  I have enjoyed my time here, but I am looking forward to being back in La Paz tomorrow, Lord-willing.  Please pray for safe trips to the airport (3 am), to Calgary (6:10 am), to Los Cabos (9:50 am) and to La Paz (3 pm), hopefully arriving home between 5 and 6 pm (which would be 7 or 8 pm here).  It was too soon to renew my Mexican driver's licence before leaving, so please pray for a smooth process doing that on Friday.  I am looking forward to getting back into ministry in the El Faro church.  A team from the church of our PD mentors in Mexicali just left La Paz, so it will be exciting to hear about what happened.  Please continue to pray for a resolution to the interpersonal conflict and the property issue.  Our desire is to see God glorified!
Grateful to have each one of you as friends and my prayer and financial supporters!

Brenda