[I apologize if you receive this twice.  I made a mistake when I thought I sent it a few hours ago.]
July has been a very busy month.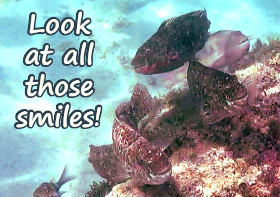 I think the fish were happy to see me again.
I had a bittersweet experience as I was swimming back.  ("Swimming back" means the camera's battery was used up so I couldn't get a picture of this.)  I was able to get really close to a Blue-footed Booby floating on the water.  They have long, powerful beaks, so I didn't want to be pecked.  I was thrilled to be able to touch it, but the reason was heartbreaking.  Its foot was entangled and pierced by at least two of the hooks of a large fishing lure.  The bird let me handle it after flying away and circling back and only winced when I gently manipulated its foot trying to find a way to help it.  I had no way to cut the barbs or to cut the hooks from the lure or to at least cut the fishing line that was still attached.  It was devasting for me to have to swim away knowing that the prognosis was not good for the bird.  I actually swam back to it two more times trying to see something that I could do for it.  I even asked people on the beach if anyone had a tool I could use, but all to no avail.
Today I've been reflecting on Hebrews 12:1 – "… let us throw off everything that hinders and the sin that so easily entangles. And let us run [fly] with perseverance the race marked out for us." (NIV)  I'm sure the bird wasn't aware of the danger of getting close to the lure or of how its foot was getting more and more entangled.  It was now aware of the pain the lure was causing it but may not have realized how deadly the situation was.  This reminds me of what sin does to us.  It entices us like a lure, and we can be ignorant of how it will entangle us and lead to pain and devastation.  For the non-believer entangled in sin, God made the provision for freedom through the death and resurrection of His Son, Jesus.  God's grace is applied through repentance from sin and faith in Jesus.  For the Christian who gets entangled in sin, 1 John 1:9 says, "If we confess our sins, he is faithful and just and will forgive us our sins and purify us from all unrighteousness." (NIV)  In both cases, we need to agree with God that the behavior offends Him and that, in His strength, we will turn our backs on it.  Praise God for His forgiveness and that He never "swims away" unable to help us!
I think that July has been the worst month for COVID cases among those from El Faro, so we continue to use Facebook Live and Zoom.  All of my regular activities are continuing and more has been added.  Starting August 17th, the plan is to reinstate the teaching portion to our ladies' meeting so I'm looking at materials and musing over how to run the meeting.  This also entails resuming the teacher training and its preparations.  Since a couple of the ladies from the group don't have the capability to join on Zoom, I plan to take the teaching to them following all the protocols.  This means we'll be meeting outside in the heat and humidity, so I am super grateful for your prayers in all of these activities.
In anticipation of El Faro starting a small group ministry, the pastors have asked me to work at translating materials and adapting them to our situation.  We are currently prayerfully considering who will lead that ministry, so please pray for the Lord to guide in that selection process.  Then I would present the project I am working on to the leadership and the ministry leader to debate and fine-tune and then begin to implement.  Things here move at a slow pace, so this will probably be a prayer request for a long time, but please do pray that a solid, reproducing small group ministry will entail.
That gives you plenty to pray for.  Thank you so much for your partnership in the ministry here.
Together in ministry,
Brenda