I trust that you enjoyed the Christmas and New Year's activities. This is my prayer for you.
Thank you for your prayers for the Christmas program.  I've always enjoyed the flash mob idea and applied that for the program (see photos with Spanish comments here).  I assigned a carol to each group and helped with a creative presentation of it.  The leadership team did the readings from Matthew and Luke and the pastor gave his sermon in three segments.  After the program we had a wonderful time of fellowship around a meal of pozole, a traditional Mexican stew, and the even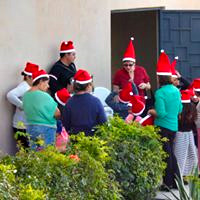 t was topped off with piñatas. We were very pleased with the attendance and even more so with the participation.
I wasn't sure how our cell group participation would go because I already knew that several would not be able to attend and because the majority of those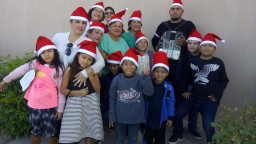 who said they would go had never even been to El Faro before.  I was very happy with the turn-out and with the enthusiasm.  We all started off singing and then Belkis and I went through the congregation distributing chocolates as
 the rest continued to lead the congregation in song.  Click here to see photos of the whole program.
Last week we celebrated Festy Niños.  I know that several of you help with the Samaritan's Purse Christmas shoe boxes, so you might enjoy knowing how they were received here.  All the church children were invited to come and to bring unsaved friends with them.  The program included songs and a Bible lesson before the boxes were 
distributed.  The kids held onto their boxes and, when instructed, they all opened them at the same time.  After that they enjoyed the process of getting candies from the piñatas.  (Click here for photos.)  El Faro received 120 boxes and all of them were given out.  There was a lot of excitement and the good news was that some of the new people returned Sunday for church.  Please pray that the new relationships begun in the Christmas and Festy Ninos events will grow and result in salvation and incorporation into the church.
I'm getting this off just in time to ask for prayer for our TEAM Mexico Annual Conference (AC) beginning tomorrow and ending on Friday.  Several missionaries are flying over from the mainland, one couple driving up from Los Cabos and then all of us driving to Loreto.  One family may make it back from their HA in Canada and others are arriving from the US to make a total of just under 60 this year.  Please pray for safety traveling, for God's work in us during the times of spiritual refreshment and relaxation, for wisdom and God's clear leading in the business sessions, and for a general time of getting to know each other/deepening relationships and encouraging each other.  As I have for the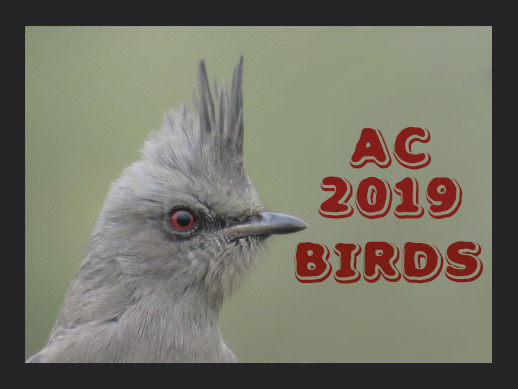 past three years of ACs here in Mexico, for the talent night, I've prepared a video of new birds that I've seen here.  This time it's not just new birds seen during the last AC and this past year, but it includes birds from past years that haven't been featured yet.  You can check it out by clicking on the photo.  To see all the videos I've done, click here.
There's always so much more to share, but I have to get the visuals ready for church in the morning.
Grateful for your prayers and support,
Brenda
Brenda