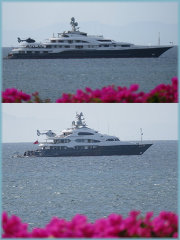 I apologize for my tardiness (and for a lack of response to a lot of emails).  A lot has been happening!
I would love to tell you that I spent my birthday aboard one of these awesome superyachts (Attessa and Attessa IV) that visited La Paz, but, alas, I have no connections with the billionaire who owns them.  However, I do have connections with the Creator of the universe, and I enjoyed some of His handiwork along the coast of the Sea of Cortéz. (Note: patch of grass!)
For those interested, I'll share about the awesome bobcat, fox, deer, horses and Violet-green Swallow after the ministry stories.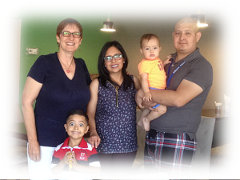 Iván was home for a quick visit after the chemo treatments.  He's back in Mexico City for a combination of chemo injections and radiation.  The treatments leave him exhausted and in pain.  He's been told he'll lose his left eye and some vision in his right eye along with other complications. This paints a dark future, so we continue to uphold him before the throne of grace. Please keep him and his family in your prayers as we call out to our awesome God.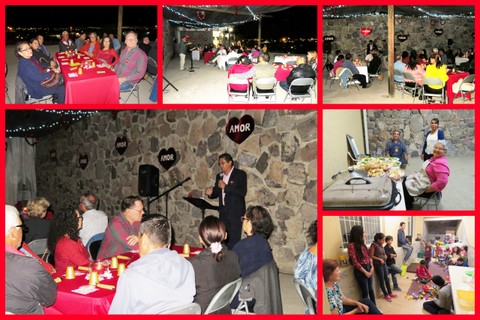 Valentine's Day was celebrated in March with an evangelistic event.  Martin was here and shared the message.  The food was delicious and the children cared for, so the adults were able to relax and enjoy the evening.  The lady in the blue top invited three couples who all came.  Her friend, Rosita, has been a believer for about 3 years, but her husband, Bernardo, doesn't want anything to do with Christianity.  He never accepts invitations, but he came – and he thoroughly enjoyed himself.  I saw him a week ago and he told me that he felt right at home and even enjoyed the message.  Please pray for his salvation.
I enjoyed helping out at the youth camp (right) and at the Lego outreaches.  Please pray for the Lord to continue His work in the lives of those who attended and their families.  Several of the youth made commitments to be faithful to Christ and have subsequently faced rejection by their unsaved friends.  Please pray that this will only deepen their faith and open opportunities for them to witness to their friends.
Monce (left) is the youth willing to help with the visuals and Efraín is the man helping run the computer.  I'm thrilled that both Monce and Efraín want to learn both areas, so I've been spending some time preparing them.  Siria was editing the sermons, but since her father passed away unexpectedly, I've been doing that again.  Please pray for Siria as she's really struggling with grief.
This week we kicked off the cell groups.  There were 3 groups meeting plus one group that was on hold and now three new groups have been formed.  Efraín is hosting one of the new groups.  He was so excited about it that he sent me a message telling me all about it as soon as they finished.  I'll be leading a new group starting this afternoon meeting in Mari's home and Paty will be teaching a class for children.  Please pray for all the leaders (David, Darío, Steve, Marco, Camilo, Enríque, Paty and myself) and for the hosts (Aidé, Dulce, Lois, Faby, Lucy, Efraín, and Mari).  Pray that the groups put down deep roots and that they group in depth, companionship, quality and quantity, and that they be evangelistic as well.

After those awesome events… I know that this is a minor detail compared to serious health issues that others are facing, but I would still like to ask prayer for the healing of my finger.  I never imagined it would take this long to heal!  The last photo was taken as I began physio on it last week.  Please also include Belkis, Eva and Danila in your prayers.  Trying to deal with health issues in Venezuela is difficult.  The majority of my closest friends from Venezuela now live in other countries.  Please pray for them as they adjust to new cultures and try to rebuild their lives, and pray for those who remain in Venezuela struggling to deal with the hardships.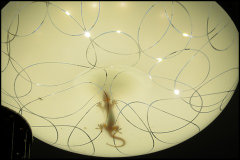 God's animal kingdom is awesome!  Sometimes it shows up where you least expect it, like Lizzy in my bedroom lamp.  Other times it shows up when you're not expecting it at all.  Last month I went out hopeful see a new bird and was thrilled to see this instead!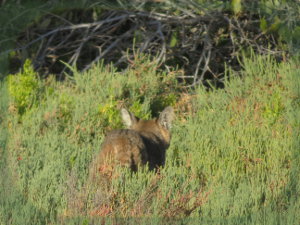 My first Baja California Bobcat!  You need to check out the video at https://1drv.ms/f/s!ApirIiDEtXgY02XjcOAg4QOzS16G  Other awesome first-time sightings this year, but without photos, include a Mule Deer and a Kit Fox (or a Gray Fox – this is why I need to take photos).
Of course, there have been new birds as well.  The American Avocet (rusty head is breeding plumage) is one of my favorites.  And I have a cool video of a Viotet-green Swallow as it ducks into it's nest and leaves moments later.  You can check them out at https://1drv.ms/f/s!ApirIiDEtXgYomcoQfOV_LDuXrhj  (The best photos tend to be at the end of the files.)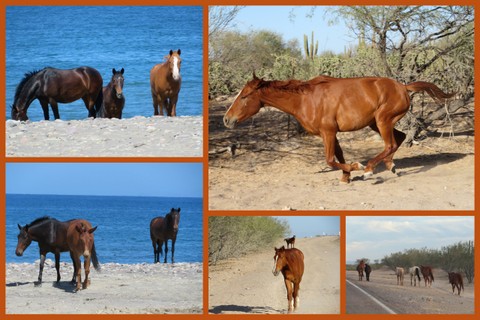 I think that's an awesome photo of the horse galloping!  I'm fascinated by all the free range horses.  You never know who you'll meet at the beach or on the road.
Serving and enjoying our Awesome God,
Brenda