I am so grateful for each of you and your prayers!  Last month I sent a really quick note with requests, so I'll give an update with more news and photos.
Thanks for your prayers for the healing of my finger.  It was a severe sprain, so when the swelling hadn't reduced with anti inflammatory meds and exercises for over 1.5 months, the doctor gave me an injection of diprospan last Friday and followed up with another on Monday.  The swelling is finally coming down and I'm regaining the use of my right hand.  I see the doctor again Monday and am hoping I don't need another injection (which would be the limit).  I appreciate your prayers for complete healing.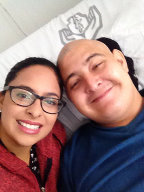 Iván and Jimena are grateful for your prayers.  Iván lost his hair after the first round of chemo.  The second round was delayed due to the hospital not having the meds which meant they had to start over again and now go through four sessions instead of three.  That was disappointing news, but the recovery from the second session was better.
Thanks also for your prayers for our TEAM Mexico Annual Conference (AC).  It was wonderful to have our missionary family together and to learn more about each other's ministries, as well as deal with some business.  There's a lot going on here to reach souls for Christ!  I made another video of the birds I've seen since the last AC for this AC.  You can see all the bird videos made for our ACs as well as the underwater videos at https://www.youtube.com/channel/UCL2ZVvN4udZXHcs0obwvXMA/videos

Efraín (top corner) is working with me in visuals Sunday mornings.  I still do all the prep, but when he runs the visuals, I'm able to join the congregation and work at other activities at the end.  For the first time, I was able to see the different Sunday School classes (shown from youngest to oldest).  Siria is editing the sermons again, but please pray for people who could help preparing the visuals.  The goal is to have a team working on audio-visuals.
El Faro recently held baptisms at the beach.  You can see photos of that at https://www.facebook.com/iglesiaelfarolapaz/  Be sure to scroll down for the second album of baptismal photos.
I enjoy teaching at the ladies' meetings Tuesdays and contributing to the leadership.  The last Tuesday each month we minister to people in need. Last month and this we're cleaning for and encouraging one of the men of the church with no family who is terminally ill.
Upcoming events include our evangelistic Valentine's celebration which was postponed to March 3rd.  Please pray that unsaved friends and family will respond positively to the invitation to attend and for God to be glorified in the event.  Also early in March we'll have a safety seminar.  Last year I mentioned the high murder rate as rival cartels fought for territory and asked for prayer.  We're grateful that the executions have reduced dramatically and always appreciate your prayers for health and safety.
The situation in Venezuela continues to deteriorate.  Please pray for the country and especially for the church to be a shining light.
Grateful for your prayers and support!
Brenda