Thank you so much for your prayers.  I have several answers to share with you and some more requests as well.
Kayla, Lily and I had a wonderful week together in December.  The best description is to watch the video Kayla made to show at church back home.  You'll be able to see the El Faro church, my apt, a couple beaches, some of the people I work with, and some of the fun things we did together – https://1drv.ms/v/s!AsuBtL14Bf9vgwL5cFdH0PlrQIWe – including swimming with the whale sharks (some over 14 metres!).  In the video you'll see the Christmas cookies we made. After they left, I had a couple decorating parties – one with mostly kids (some of their cookies are on the round trays) and the other with the ladies in the photo below.  They were shared on several occasions.
Pan de Jamón (Ham Bread) is a Venezuelan Christmas tradition.  I made several of them and shared them with different groups I invited over or took them to events.  Speaking of Venezuela, please keep that country in your prayers.  There are shortages of everything with increased crime, violence and inflation making life difficult.  I've been encouraged when talking with friends there because, instead of complaining about the challenges, they're focused on praising God for His provisions and trusting Him for all their needs.  People are coming to the Lord in the crisis, so please pray for genuine conversions and for the believers to continue to grow in faith and boldly share it.
In my last letter, I asked for prayer for the doctor who accepted my invitation to the church Christmas dinner/program.  She and her husband did come and enjoyed the evening.  Last month I invited them out for coffee, but they invited me to their home for lunch instead!  Their married daughter was there as well and I invited them all to the marriage conference.  I need to know by this Sunday if they plan to attend, so please pray that they can make time in their busy schedules to attend.  I also mentioned another lady with an abusive background.  There have been several obstacles preventing us from meeting, but the good news is that she does want to get together and asked if we could try on Saturdays.  Please pray that we are able to start meeting tomorrow.
TEAM Mexico enjoyed our Annual Conference in January.  It was held in Loreto, about a 4-hr. drive north.  The setting was beautiful and the messages inspirational.  We welcomed some new missionaries to the field and it was good to be with others that I met at last year's AC.  I also saw some new birds and was inspired to update my photos.  You can see them at https://1drv.ms/f/s!ApirIiDEtXgYomd3Ck3lGkKSuLFf – if any of you are birders and notice any mistakes with the identification, please correct me.  You can also watch a presentation I made of all the birds I saw last year during our five days together – https://1drv.ms/f/s!ApirIiDEtXgYsXHpzTGkCnYHFNAZ – with all the birds after the Great Egret being new ones to me.  I didn't see many new birds this time.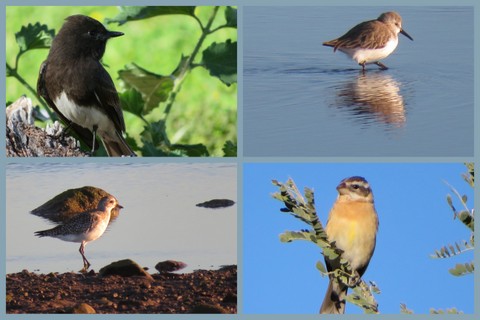 The last Friday of every month El Faro has a half-night of prayer.  Last week it was really cold and we wanted to celebrate the last event in the roofless auditorium, so we had a campfire there.  We appreciated the warmth of the fire as we sang and prayed, and we enjoyed fellowship as we roasted wieners and marshmallows.  I learned something new about the culture – they put chili sauce and lemon juice on the wieners.  Another first! The construction of the roof did begin this week – but not without another delay.  Please pray for the bureaucracy to be worked out and for the construction to proceed without incident.
Please continue to pray for the Marriage Conference.  Doug and Ruth Loveday are coming to speak and would appreciate your prayers as they prepare and for God to work through them here.  The conference begins next week with
sessions Wednesday and Friday evenings, all afternoon on Saturday ending with a meal, and Sunday morning.  We jumped from 12 signed up to 35 and there will be more signing up this Sunday.  Please pray for a good attendance, for a good number of invitees, for all the logistics to work out, for a warm day with no wind (especially during the meal), and, most of all, for God to be glorified.  We desire to see marriages strengthened and for people to enter into a relationship with the Giver of all good gifts.
"I will praise the Lord at all times.  I will constantly speak his praises.  I will boast only in the Lord; let all who are helpless take heart.  Come, let us tell of the Lord's greatness; let us exalt his name together." (Ps. 34:1-3, NLT)
Praising our Lord,
Brenda