Several months ago I wrote about the change in strategy.  I'm working with a Peruvian team in an established church to help get it back on its feet.  We refer to it as the Grau church because it is on Ave. Grau, named after one of Peru's military heroes, Miguel Grau.   Related to that, we are in Fiestas Patrias – literally a national party – celebrating Peru's independence from Spain. 
My primary assignment in the Grau church is to oversee the adolescent and youth ministries.  When I arrived, the adolescent group consisted of two to five adolescents and nine leaders.  Of the leaders, five are adolescents.  The youth group consisted of 15-20 youth with seven leaders.  The leaders are all youth and young adults with one of the adolescent leaders, and some are leaders in both groups.  We lost a couple leaders due to work or university schedules, but we've also gained some new leaders, so that's about the same, but the attendance has been up to about 20 in adolescents and 30 in youth.   Attendance was down last weekend, but I hope that was just due to schools being on vacation and Fiestas Patrias.  Every week there are about five to ten new visitors.  If they all became regulars, we'd have larger groups, so we're working on follow-up.
One of the changes we've made is to join the two leadership teams.  We work on one program and implement it in both groups.  That way we share resources and leaders.  One of the directives given to us was to be small group oriented, so both ministries are divided into small groups.   Two weeks ago we began with this new model on a Bible study called The Return of the King, based on 1 & 2 Thessalonians.  Before dividing into small groups, we watch a DVD by Pastor Roberto Bastante with a short message on the passage to be studied.  Other elements are included before and after, but the heart of the ministry is the small group dynamic.  Some of the small groups are led by co-leaders and are ready to multiply when the group grows, but in the near future, we may have a shortage of leaders, so please pray that the Lord would prepare new leaders.  We currently have four small groups in adolescents and six in youth.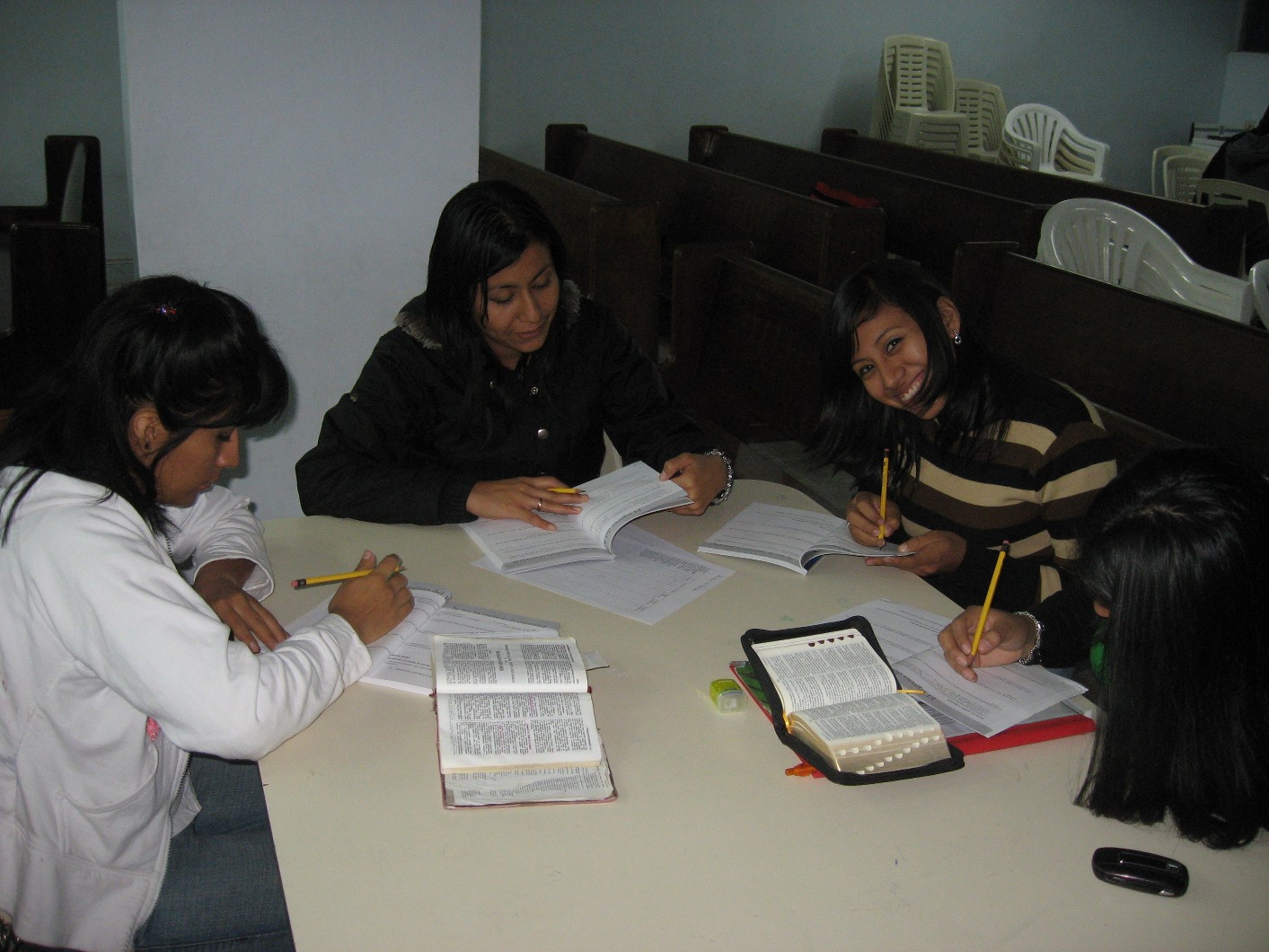 The ministry is based on the five biblical purposes of worship, evangelism, community, discipleship, and service.  This Saturday we're doing something different.  The purpose being focused on is worship and we're joining the adolescents and youth for a special service.  A group of the youth has formed a worship band and this will be their first time to play.  Live music instead of CDs for accompaniment is one of our goals.  (More on that in another post.)  Another group of youth is preparing a drama.  The adolescents hope to have a choral reading.  And interspersed we plan to have several salvation testimonies shared by adolescents, youth and leaders, among other items.  Please pray for the Lord to meet with us in a powerful way as we worship Him together this Saturday.
Anticipating an awesome worship service,
Brenda