This month has been like a roller coaster ride with several ups and downs.  Those "up" moments are so short-lived!
The weather.  The temperatures soared up but, thankfully, they've come down to the mid-30s C/mid-90s F and it cools off overnight.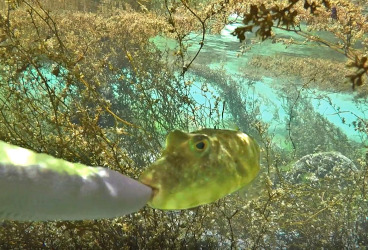 With the hot temperatures, I ventured back into the water a couple of times.  I enjoyed everything I saw, but the water is still on the cool side for me, so I was actually shivering in the water both times.  You can see some footage by clicking on the fish images.  I'll try again next month (which is almost here!).  Eugene should hit Baja California Sur tomorrow as a tropical storm. 
That should bring some much-needed rain, but prayers for safety throughout the hurricane season would be appreciated.
COVID.  Here the levels progress from red being lockdown to green.  We had moved closer to green, but are back to the level before red.  El Faro has had one or two people with COVID at a time and, so far, all have recovered except one.  Other churches have had high numbers of cases and more deaths.  Please pray for continued protection for El Faro, for wisdom for church leaders to know when (and how) to open again, and for those struggling with COVID – physically and/or economically.
Belkis.  Belkis continues in the US waiting on the immigration process.  She'd appreciate prayer for all the steps and decisions involved.  She recovered from COVID several months ago.  Her sister and brother-in-law have been caring for her mother back in Venezuela.  Recently, they all came down with COVID and her mother passed away on Saturday.  They are all believers, but not the rest of the family.  Compounding their grief is the fact that they are all scattered in different countries and can't be together.  Even the brothers in Venezuela can't travel the relatively short distance to be with their sister because of the gas shortages and COVID.  Please lift the family up before the Lord in these difficult days.
El Faro.  We continue to hold meetings on Zoom and transmit the Sunday service on Facebook Live.  It seems like every time a step forward is taken, there's another setback.  For example, the cohort met to start working on a document.  We had good attendance and excellent discussions, but the next two weeks had to cancel for lack of attendance.  There were legitimate reasons for most of the absences, but it's still discouraging.  The PD training group had an issue, but that seems to be improving.  Rafa has just barely finished the job that I mentioned last month, so he's getting more involved with church again.  Hopefully that will bring the attendance up for leaders' meetings, the PD training, and the cohort.
The Chosen.  A while ago, I mentioned that one way to try to encourage more participation in El Faro was to watch an episode of The Chosen together and then have a time of discussion.  This was done on Zoom using the YouTube videos because they were dubbed in Spanish.  Now they are only available with dubbing on the app and I haven't been able to figure a way to connect the app to Zoom.  Since each person needs to watch the episode on their phone and then we Zoom for the discussion, only a couple of ladies have continued.  I was about to cancel that activity (due to that and also having to cancel for other events a couple of times), but both ladies want to continue.  The discussions are edifying for each of us, but we only have one episode to go and will then take a break until Season 2 is dubbed in Spanish.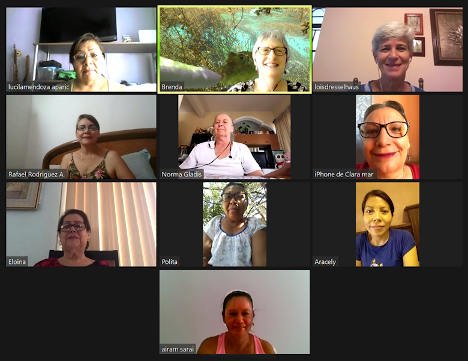 The Ladies' Group.  Every Tuesday morning, a group of us meet on Zoom to fellowship and to pray.  The sad note is that one of the faithful ladies and her daughter have left El Faro to go to another church.  The photo was taken this morning and several ladies spontaneously expressed how this meeting is a highlight of the week for them.
Therefore, since we are surrounded by such a huge crowd of witnesses to the life of faith, let us strip off every weight that slows us down, especially the sin that so easily trips us up. And let us run with endurance the race God has set before us.  We do this by keeping our eyes on Jesus, the champion who initiates and perfects our faith. Because of the joy awaiting him, he endured the cross, disregarding its shame. Now he is seated in the place of honor beside God's throne.                            Hebrews 12:1, 2 NLT
Grateful for your prayers!

Brenda