I am so grateful for each of you who God has led to partner with me in prayer, with finances, or both.  I recently had an opportunity to share at our Baja TEAM Day of Prayer.  As I prayerfully reminisced to choose which stories to share, over and over again I was impressed with God's faithfulness.  I recounted several stories of how God has led me and provided for me, but time was limited.  One aspect that I didn't have time to delve into was how God brought you into my life and of your faithfulness through the years and decades.  Many of you, churches and individuals, have been with me from the beginning of my missionary service (including preparing me in my childhood and youth).  Others have joined the team as God intersected our paths.  Over the years some have left the team, but that has mostly been due to being called home – reflecting our true citizenship, our eternal abode in the presence of our Father.  Over the last couple of months, several of the team have made that glorious transition and will be missed, but I sincerely appreciate each of you.  "And this same God who takes care of me will supply all your needs from his glorious riches, which have been given to us in Christ Jesus."  (Philippians 4:19, NLT)
Please continue to pray about the new focus of my ministry as that is still to be determined.  In the meantime, I continue to serve with the Ladies' Group, as liaison with the El Faro church, in the preparations for the implementation of the Purpose Driven strategy and a few other areas.  This month I've been helping with the Children's Day celebration, but in a supportive role.  Coni is the lady who has been putting programs together to celebrate different events and she's doing a great job.  Please pray for her and for this afternoon's event and as she is already planning for a Mother's Day program.  All of this is still on-line.  (The photo is of our Ladies' Group.  I've identified Coni for you.  My background is one of my photos of the area I've been hiking.)
In my last report, I shared with you about the cohort meeting with Manuel and inviting him to be our mentor.  He wanted more people involved, so a group of about 34 was invited to participate.  The first couple of weeks, over 30 people were at the trainings, but the attendance has dropped to around 20.  Most of the absences are due to work schedule conflicts and to travel.  Please pray that the "trainees" are able to attend and to grasp the strategy and grow in their commitment.  We've only finished the first of 8 sessions.  The normal tendency would be for attendance to drop, so I'm asking you to pray for God's intervention to create a new normal.  Thanks so much for your prayers.
The cohort is part of the training and the body that will be working to implement it (with the approval of the leadership), so please pray specifically for the cohort as well.  We need God's wisdom and leading.
God's timing is always perfect.  Having "lighter" responsibilities at church has allowed me to take some on-line courses.  I've already seen the value in what we're learning and am enjoying the interactions.
Over the winter months, the temperatures here are very comfortable.  I've enjoyed hiking all the trails in the area I was exploring, and I also discovered a new place for bird watching.  Due to migrations, I've seen more new birds and also met a couple of on-line birders who have reviewed my photos and helped with ID confirmations.  I now have a record of 189 different species that I've seen here and I'm now pretty sure they have all been correctly identified.  There are birds from A to Z (American Avocet to Zone-tailed Hawk).  Only 4 letters of the alphabet are missing, and I don't count the Unidentified folder as a category (anything in there is waiting for a real birder to confirm).  Clicking on the photo will take you to the site and clicking on a folder will open photos of that species according to date, so the better photos are probably at the end of each folder.  After a few days of hot weather, I'm enjoying the comfortable weather while it lasts.  Once it heats up, my attention in my downtime will move from hiking and birds to skin-diving and fish!  In all my activities, I appreciate your prayers for health and safety.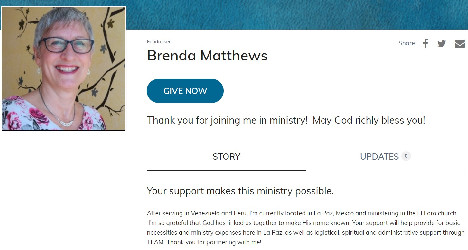 TEAM has been working to update several areas.  If you go to www.team.org and click on GIVE NOW and then Support a Kingdom Worker, you could do a search for me and should see the new page which should include this visual.  It just went live in the last couple of days and should make on-line giving easier.  For those who give on-line, I do hope this improves your experience.
Once again, I am extremely grateful for you and your partnership through prayer, giving, or both.  You are an integral part of the team!
Grateful for you!

Brenda